I was thinking about books that have either affected my life or that I think everyone should read. So here are some of them, in no particular order.



Chronicles of Narnia by CS Lewis - So they are a children's story, but still some of the most amazing books ever written. They can be read on so many levels and each time I read them I see something new. It gives you a different take on the whole Christian story and the imagery is wonderful.

Anne Frank: The Diary of a Young Girl
by Anne Frank
- This falls under the catagoryof never forgetting our past. It gives insight to both growing up and what it was like during the World War II.


The Hiding Place
by Corrie Ten Boom - Another World War II book. This one tells how God can use a "normal" person for amazing things. She and her family were deeply involved in the underground movement and actively hid Jews and other people in danger in their house, saving many lives.

God's Global Mosaic: What we Can Learn from Christians Around the World
by Paul-Gordon Chandler - This was an introduction to my learning from other cultures. It takes one aspect from various cultures around the world and talkes about how we as western, first world Christians can learn from it.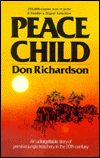 Peace Child
by Don Richardson - The story of a missionary in New Guinea. At first he tries to tell the story of Christ as he was accustom to, until because of a tradition in their culture, Judas becomes the hero! Eventually he learns of another tradition and finds a way to translate the gospel into a story that deeply affects their lives.
You Are Special
by Max Lucado - Another children's book, but it is a priceless story and has gorgeous pictures so it is worth reading. It is the story of how God loves us just becuase I'm me, not because of the things that I can or can't do.
The Hermeneutical Spiral
by Grant R. Osborne - This was one of my text books in college. It opened my eyes on different ways to read the Bible. It talks both about in-depth study, like breaking everything down to the sentence structure and about how to read the various types of literature.
Nickel and Dimed: On (Not) Getting By in America
by Barabara Ehrenreich - A good case study book on the working poor. It really opens your eyes to how the "pull yourself up by your bootstraps" idea doesn't really work.
Soul Tending
- This is a Bible study guide that covers a variety of spiritual disciplines. It was an amazing experience and provides a variety of different ideas to enhance your spiritual life. It is also interesting to see how different we all are and how which things affect which of us.

A Simple Path
by Mother Teresa - So I actually read this book in Spanish, but either way it is wonderful. I love Mother Teresa's sincere and simple faith. She has such a heart for the poor and gave everything to help them, such an amazing example